JUNE 2022

                  Sacred Heart Faith Formation 

June – The month dedicated to the Sacred Heart of Jesus.

The Month of June is dedicated to the Sacred Heart. The Church celebrates the Solemnity of the Sacred Heart of Jesus on the Friday following the second Sunday after Pentecost.

Behold this Heart which has loved men so much, and yet men do not want to love Me in return.

Through you My divine Heart wishes to spread its love everywhere on earth."

– Jesus to Saint Margaret Mary

JUNE – REGISTRATION for the 2022-2023 Sacred Heart Faith Formation School Year is now OPEN.  

To REGISTER for our Faith Formation program utilizing My Catholic Faith Delivered as our primary online learning platform,

Go to our dropdown menu "Registrations and Fees" to pay online

OR

Go to our dropdown menu "Forms" to print out the Registration or Re-registration or 8th Grade registration forms.  Complete the appropriate forms and drop them off with your registration fees to the Faith Formation office or Rectory in an envelope marked "Faith Formation".

For the 2022-2023 school year, in addition to My Catholic Faith Delivered, we will also offer an Opening School Year Mass, Grade/Level masses, proximate preparation (for our sacrament years), Advent/Lenten activities, and other hybrid activities.  Prior to beginning all lessons, Fr. Fred invites families to say four prayers:  Our Father, Hail Mary, Glory Be and the Act of Contrition.  We anticipate having Fr. Fred host a meeting with prayer for both parents and children this year!  We also anticipate hosting meetings to pray the Rosary in October, talk about and show our favorite saints in November and discover the meaning behind some of our favorite Advent traditions.

Current Grade/Level 7 Sacred Heart Catholic Academy, Faith Formation and RCIA Teen Year 1 students that have met all requirements for their current grade are invited to register for Grade/Level 8 and RCIA Teen Year 2.  Registrations will only be processed once all Grade/Level 7 and RCIA Teen Year 1 requirements have been met.    Registration for Grade 8 closes on June 30th.  

FAITH FORMATION CLASSES 2021-2022:  Students should have COMPLETED ALL Lessons on My Catholic Faith Delivered.   65% or better is required on all lessons and unit tests to get credit for this year's work.  Report Cards will be mailed over the next few weeks.  Those that have not completed their requirements satisfactorily will have to  repeat their grade and will not advance to the next grade.  Students that have successfully completed their My Catholic Faith Delivered course with a 65% or better on all lessons and tests are invited to re-register for the new school year.

---

REMINDERS…

Grade 7– An important part of the Grade 7 requirements for Confirmation includes an in-person interview.  Interview are currently on-going.

In order to receive an appointment for your interview you MUST COMPLETE the following:

1)  My Catholic Faith Delivered Grade 7 Coursework (Faith Formation students only)

2)  Saint Report

3)  Letter to the Pastor

4)  20 hours of service  (you will need to bring your service journal sheets to the interview if you have not already submitted them)

All of the above MUST be completed to get an interview scheduled.  Interviews MUST be completed in order to receive Confirmation.

Interviews will consist of a 10 to 15-minute discussion covering the topics that have been emailed to you.
You will also need to bring to the interview your Confirmation Registration Form and fee payment in a sealed envelope ready to be handed in.  Please see our 8th Grade Registrations Form and Fees link.

Please visit our website at www.sacredheartreligion.org for additional information.

---

Jointly with our catechists, we are planning opportunities for our Faith Formation families to grow in faith through the return of the online My Catholic Faith Delivered (MCFD) program which is our primary learning platform this year.

Login information and instructions for MCFD have been sent out.  

Note: A 65% or better is required on Post-Assessment and Unit Tests in MCFD to get credit for the year's work.

You may find more information on MCFD on our homepage under MCFD dropdown.

Our office is VIRTUALLY open. For school building safety no one should come to our office. Only students of Sacred Heart Academy, teachers, and staff are allowed in the building.

TO CONTACT US – email us at [email protected], and if you want to speak to us, give us a number where you can best be reached.

EMAIL BLASTS – STAY IN THE LOOP and ALWAYS KNOW WHAT IS GOING ON: TO MAKE SURE YOU RECEIVE OUR DETAILED EMAILS ABOUT ALL things FAITH FORMATION AND SACRAMENTS SIGN UP ON OUR HOMEPAGE BELOW. (It will tell you if you are already signed up.)

PRAYER LOWERS STRESS. PRAYER IS POWERFUL! YOU ALL ARE IN OUR DAILY PRAYERS!

STAY CONNECTED BY WATCHING THE MASS ONLINE. THERE ARE LINKS BELOW.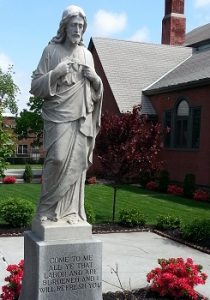 "Let the children come to me"
Sacred Heart Faith Formation
serves the faith formation needs of the children of Sacred Heart Parish. Our children come from NYC Public Schools and Sacred Heart School to receive their sacraments. Our public school children come to classes on Tuesdays and Wednesdays to learn about their Catholic Faith.
PROGRAMS
OFFICE HOURS
MONDAY through THURSDAY, 9 AM to 12 Noon.
 Tuesday evenings from 7-8:30 PM when classes are in session.
Call / E-Mail us with any questions about Faith Formation at Sacred Heart Parish.