OCTOBER 2020

WELCOME TO FAITH FORMATION FOR 2020-21! Our office is VIRTUALLY open. For school building safety no one should come to our office. Only students of Sacred Heart Academy, teachers and staff are allowed in the building. TO CONTACT US – email us at [email protected], and if you want to speak to us, give us a number where you can best be reached.

REGISTRATION FOR THE NEW SCHOOL YEAR IS STILL OPEN: click Registration & Fees above and follow the directions. NO LATE FEE this year! If you have a problem with tuition, email me – we will work with you.

ATTENTION REGISTERED STUDENTS: Welcome/Login emails have been sent from My Catholic Faith Delivered. You should start doing a lesson a week.

IF YOU JUST REGISTERED: wait 2 days, and then if you didn't get your Welcome/Login from My Catholic Faith Delivered, email me.

EMAIL BLASTS – STAY IN THE LOOP and ALWAYS KNOW WHAT IS GOING ON: TO MAKE SURE YOU RECEIVE OUR DETAILED EMAILS ABOUT ALL things FAITH FORMATION AND SACRAMENTS SIGN UP ON OUR HOMPAGE BELOW. (It will tell you if you are already signed up.)

YOUR PRAYERS ARE NEEDED MORE THAN EVER. MAKE A TIME TO PRAY FOR YOUR FAMILIES, OUR COMMUNITIES, OUR COUNTRY AND OUR WORLD EVERYDAY WITH YOUR CHILDREN. PRAYER LOWERS STRESS. PRAYER IS POWERFUL! YOU ALL ARE IN OUR DAILY PRAYERS!

STAY CONNECTED BY WATCHING THE MASS ONLINE. THERE ARE LINKS BELOW, BUT FROM THE VATICAN ON DOWN, MASSES WILL STREAM LIVE EVERYDAY.

PRAY TOGETHER OVER THE PHONE or INTERNET WITH GRANDPARENTS, AUNTS AND UNCLES and FRIENDS AS A WAY OF SUPPORT AND CARE.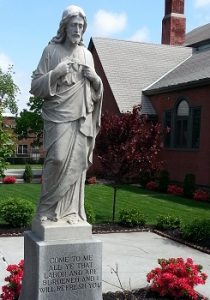 "Let the children come to me"
Sacred Heart Faith Formation
serves the faith formation needs of the children of Sacred Heart Parish. Our children come from NYC Public Schools and Sacred Heart School to receive their sacraments. Our public school children come to classes on Tuesdays and Wednesdays to learn about their Catholic Faith.
PROGRAMS
OFFICE HOURS
MONDAY through THURSDAY, 9 AM to 4 PM
Also Tuesday evenings from 7-8:30 PM when classes are in session.
Call / E-Mail us with any questions about Faith Formation at Sacred Heart Parish.