SEPTEMBER 2023

                  Sacred Heart Faith Formation 

Our 2023-2024 Faith Formation school year formally kicks off with our Opening Mass on Wednesday, September 20th at 7 PM in the Sacred Heart of Jesus Church!

All of our Faith Formation students and parents/guardians are invited to this special Mass!

Our Faith Formation program will once again be using the online Faith and Life program delivered through My Catholic Faith Delivered.  Login information for each student will be released towards the end of September.  The self-paced online learning program will be supplemented by class masses and meetings, and 3 Zoom sessions covering the Saints,  Advent/Christmas, and Lent/Easter.  Other activities/events are detailed on our website's calendar.

Our registration period for the 2023-2024 Faith Formation school year has now closed and we turn our attention to our new school year!   

Faith Formation coursework…

           

FAITH FORMATION logins for My Catholic Faith Delivered for the 2023-2024 school year will be released beginning the week of September 18th and continue to the end of the month.  A 65% or better is required on all lessons and unit tests to get credit for this year's coursework.

---

TO CONTACT US – email us at [email protected], and if you want to speak to us, give us a number where you can best be reached.

EMAIL BLASTS – STAY IN THE LOOP and ALWAYS KNOW WHAT IS GOING ON: TO MAKE SURE YOU RECEIVE OUR DETAILED EMAILS ABOUT ALL THINGS FAITH FORMATION AND SACRAMENTS SIGN UP ON OUR HOMEPAGE BELOW. (It will tell you if you are already signed up.)

PRAYER LOWERS STRESS. PRAYER IS POWERFUL! YOU ALL ARE IN OUR DAILY PRAYERS!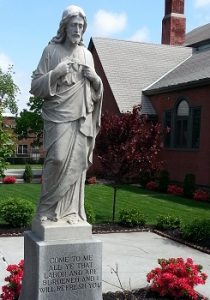 "Let the children come to me"
Sacred Heart Faith Formation
serves the faith formation needs of the children of Sacred Heart Parish. Our children come from NYC Public Schools and Sacred Heart Catholic Academy to receive their sacraments.
PROGRAMS
OFFICE HOURS
MONDAY through THURSDAY, 9 AM to 1 PM.
Call / E-Mail us with any questions about Faith Formation at Sacred Heart Parish.