NOVEMBER/DECEMBER 2021

2021-2022 Sacred Heart Faith Formation 

Sunday, Nov 28th marks the first Sunday of Advent!

Advent means 'arrival'/coming in Latin. This is the coming of Jesus into the world. Christians use the four Sundays and weeks of Advent to prepare and remember the real meaning of Christmas. Many families use Advent calendars and Advent wreaths to count down the days and weeks to the Birth of Christ.

 

---

All Faith Formation students should continue working on their My Catholic Faith Delivered (MCFD) lessons each week.

Please see your MCFD Dashboard Notifications for information regarding keeping up with your lessons.

UPCOMING!

Sunday, December 5th at 9:30 AM is our MASS and meeting to follow (in the Church basement) for Faith Formation, Academy, and RCIA Teen 2 students in Level/Grade 8.  Only 1 parent and the student should attend the meeting in the Church basement due to space limitations.   Please submit your packets (YELLOW forms) and prayers at this meeting!

COVID-19 Reminders:  Masks are highly encouraged, social distancing to the extent possible and there should be no physical contact.

Wednesday, December 8th – Feast of the Immaculate Conception of the Blessed Virgin Mary  This is a HOLY DAY OF OBLIGATION!  Please remember to attend MASS!
This Holy Day of Obligation celebrates Mary's conception in the womb of Saint Anne without the stain of original sin. When Our Blessed Mother appeared to Saint Bernadette Soubirous at Lourdes in 1858 she told her, "I am
the Immaculate Conception."

Tuesday, December 14th at 7:00 PM is our 3rd Proximate Preparation Session for Level/Grade 8 Students.
This VIRTUAL proximate preparation session will be presented by Fr. Chris Bethge.
______________________________________________________________________

Jointly with our catechists, we are planning opportunities for our Faith Formation families to grow in faith through the return of the online My Catholic Faith Delivered (MCFD) program which is our primary learning platform this year.

Login information and instructions for MCFD have been sent out.  

Note: A 65% or better is required on Post-Assessment and Unit Tests in MCFD to get credit for the year's work.

You may find more information on MCFD on our homepage under MCFD dropdown.

Our office is VIRTUALLY open. For school building safety no one should come to our office. Only students of Sacred Heart Academy, teachers, and staff are allowed in the building.

TO CONTACT US – email us at [email protected], and if you want to speak to us, give us a number where you can best be reached.

EMAIL BLASTS – STAY IN THE LOOP and ALWAYS KNOW WHAT IS GOING ON: TO MAKE SURE YOU RECEIVE OUR DETAILED EMAILS ABOUT ALL things FAITH FORMATION AND SACRAMENTS SIGN UP ON OUR HOMEPAGE BELOW. (It will tell you if you are already signed up.)

PRAYER LOWERS STRESS. PRAYER IS POWERFUL! YOU ALL ARE IN OUR DAILY PRAYERS!

STAY CONNECTED BY WATCHING THE MASS ONLINE. THERE ARE LINKS BELOW.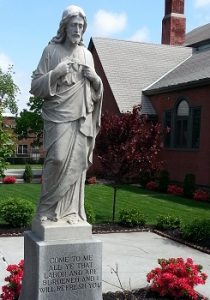 "Let the children come to me"
Sacred Heart Faith Formation
serves the faith formation needs of the children of Sacred Heart Parish. Our children come from NYC Public Schools and Sacred Heart School to receive their sacraments. Our public school children come to classes on Tuesdays and Wednesdays to learn about their Catholic Faith.
PROGRAMS
OFFICE HOURS
MONDAY through THURSDAY, 9 AM to 12 Noon.
 Tuesday evenings from 7-8:30 PM when classes are in session.
Call / E-Mail us with any questions about Faith Formation at Sacred Heart Parish.