JULY / AUGUST 2021

REGISTRATIONS for the 2021-2022 Faith Formation School Year is now OPEN. 

FAITH FORMATION CLASSES 2020-21: Students should have COMPLETED ALL Lessons on My Catholic Faith Delivered NOW. 65% or better is required on Post-Assessments and Unit Tests to get credit for this year's work. Report Cards (Letter of Completion) have been mailed to those who have passed and completed their MCFD course.

Those that have not completed their requirements satisfactorily have been mailed a letter showing missing or failing work. Those who do not pass and complete the MCFD course will have to repeat this year of religion. If you are in this category, call us to work out a plan so this doesn't happen. There is still time to remedy this.

CONFIRMATION YEAR 1 PREP: the CONFIRMATION INTERVIEW QUESTIONS Form is up on the website. Click on the Mass Reflections tab above. The link is at the bottom of the page. These are the basic questions of your Faith. EVERYONE must satisfactorily complete these questions to go on the Year 2  Confirmation Prep. Use your religion books or MCFD to research any answers you are not sure of.

Confirmation Year 1 Prep: Your 20 hours of Confirmation service, which is also required to go on to Year 2, and the COMPLETED SERVICE JOURNAL PAGES are DUE JUNE 30th with a COMPLETED 8th GRADE REGISTRATION FORM & Fee. The 8th Grade Registration Form has been emailed to you and is also available online here on our homepage under the FORMS tab above.

Our office is VIRTUALLY open. For school building safety no one should come to our office. Only students of Sacred Heart Academy, teachers and staff are allowed in the building. TO CONTACT US – email us at [email protected], and if you want to speak to us, give us a number where you can best be reached.

EMAIL BLASTS – STAY IN THE LOOP and ALWAYS KNOW WHAT IS GOING ON: TO MAKE SURE YOU RECEIVE OUR DETAILED EMAILS ABOUT ALL things FAITH FORMATION AND SACRAMENTS SIGN UP ON OUR HOMPAGE BELOW. (It will tell you if you are already signed up.)

PRAYER LOWERS STRESS. PRAYER IS POWERFUL! YOU ALL ARE IN OUR DAILY PRAYERS!

STAY CONNECTED BY WATCHING THE MASS ONLINE. THERE ARE LINKS BELOW.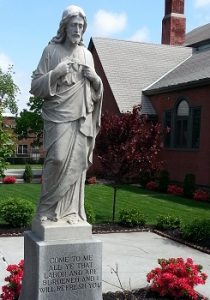 "Let the children come to me"
Sacred Heart Faith Formation
serves the faith formation needs of the children of Sacred Heart Parish. Our children come from NYC Public Schools and Sacred Heart School to receive their sacraments. Our public school children come to classes on Tuesdays and Wednesdays to learn about their Catholic Faith.
PROGRAMS
OFFICE HOURS
MONDAY through THURSDAY, 9 AM to 4 PM
Also Tuesday evenings from 7-8:30 PM when classes are in session.
Call / E-Mail us with any questions about Faith Formation at Sacred Heart Parish.