FEBRUARY 2023

                  Sacred Heart Faith Formation 

We begin the month of February by celebrating the Presentation of the Lord on Thursday, February 2nd.

Friday, February 3rd, is the Feast of Saint Blaise, Patron Saint of those with
diseases of the throat. There will be the traditional St. Blaise Throat Blessing at the 8:30 a.m. Mass

The season of Lent begins on Wednesday, February 22nd, with Ash Wednesday.

Upcoming Faith Formation Events…

 Sacrament preparation continues!

Thursday, February 2nd at 7 PM:  Grade/Level 7 & RCITeen Year 1 – Zoom Informational Session to discuss on-going requirements for this sacrament prep year.  Students are encouraged to attend and bring their questions!  Zoom call details have been provided.

Wednesday, February 8th at 7 PM:  Grade/Level 8 & RCITeen Year 2 – Mandatory PARENT/SPONSOR   – Zoom meeting to discuss Confirmation Day.  Zoom call details have been released.

 Saturday, February 11th at 9:30 AM – Grade/Level 8 & RCITeen Year 2 – Mandatory RETREAT – check-in at  9:30 AM in the Church.

 Saturday, February 12th at 9:30 AM Class Mass for Grades/Levels 7 and 8 with Hospitality to follow. 

Sunday, February 26th following the 9:30 AM Mass until 1 PM – Distribution of Confirmation gowns and other important items for Confirmation.  (Tentative – location and other details to be provided.)

Reminders…

Grade/Level 2 families preparing for Communion this May should kindly remember to pay their First Eucharist sacrament fee (March deadline) and make sure they have completed their First Proximate Preparation project, Remembering Your Baptism.  Anyone who has this project outstanding was contacted by our office.  Completion of this project is a requirement of our program.

Grade/Level 7 & RCIA Teen Year 1 – DUE DATE for Saint Reports is Tuesday, January 31st.

Grade/Level 7 & RCITeen Year 1 – DUE DATE for Letter to the Pastor is due March 31st.

If you have not submitted your Saint report yet, please remember to do so!  Faith Formation students should email their report to [email protected] so it can be shared with your Grade 7 catechist while Sacred Heart Catholic Academy students should submit their reports to their Homeroom teachers who will then give them to the Faith Formation office.  Please contact the Faith Formation office if you have any questions.

Faith Formation coursework…

Level/Grade 8 students enrolled in MCFD must complete ALL lessons by March 1st to be prepared for CONFIRMATION!  Students in Level/Grades 1 through 7 should complete Lesson 20 by the end of February 2023.  Grade/Level 2 students must complete all their MCFD coursework by May 1st in order to participate in the sacraments of Reconciliation and First Eucharist!

Parents and students, please remember to check your Dashboard for any notifications and class threads!  You will see daily prayers posted under Notifications.  Please remember to practice the daily prayers each and every day (and night)! 

Note: A 65% or better is required on Post-Assessment and Unit Tests in My Catholic Faith Delivered (MCFD) to get credit for the year's work.  You may find more information on MCFD on our homepage under the MCFD dropdown.

---

Please always visit us at www.sacredheartreligion.org for updated information.

---

TO CONTACT US – email us at [email protected], and if you want to speak to us, give us a number where you can best be reached.

EMAIL BLASTS – STAY IN THE LOOP and ALWAYS KNOW WHAT IS GOING ON: TO MAKE SURE YOU RECEIVE OUR DETAILED EMAILS ABOUT ALL things FAITH FORMATION AND SACRAMENTS SIGN UP ON OUR HOMEPAGE BELOW. (It will tell you if you are already signed up.)

PRAYER LOWERS STRESS. PRAYER IS POWERFUL! YOU ALL ARE IN OUR DAILY PRAYERS!

STAY CONNECTED BY WATCHING THE MASS ONLINE. THERE ARE LINKS BELOW.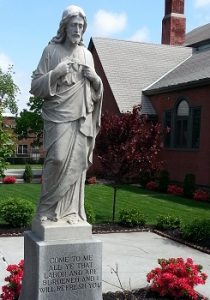 "Let the children come to me"
Sacred Heart Faith Formation
serves the faith formation needs of the children of Sacred Heart Parish. Our children come from NYC Public Schools and Sacred Heart School to receive their sacraments.
PROGRAMS
OFFICE HOURS
MONDAY through THURSDAY, 9 AM to 12 Noon.
 Tuesday evenings from 7-8:30 PM when classes are in session.
Call / E-Mail us with any questions about Faith Formation at Sacred Heart Parish.