APRIL 2021

SACRED HEART SCHOOL AND THE FAITH FORMATION OFFICE ARE CLOSED UNTIL APRIL 12th for EASTER BREAK.

Our office is VIRTUALLY open. For school building safety no one should come to our office. Only students of Sacred Heart Academy, teachers and staff are allowed in the building. TO CONTACT US – email us at [email protected], and if you want to speak to us, give us a number where you can best be reached.

FAITH FORMATION CLASSES: Students should be completing a Lesson a week on My Catholic Faith Delivered. 65% or better is required on Post-Assessments and Unit Tests to get credit for this year's work. Complete through Lesson 22 by end of March. Complete all Lessons by May. 

Confirmation Prep Year 1 should be COMPLETING ALL THEIR MASS REFLECTIONS NOW. Just click on Mass Reflections above and then click on the date. The SAINT REPORT was DUE JANUARY 31, 2021. Anyone who did not hand in a satisfactory Saint Report cannot go on to 2nd year Confirmation Prep.  EMAIL your completed Saint reports to [email protected] Don't forget to keep working on your 20 hours of Confirmation service which is also required to go on to Year 2.

Confirmation Prep Year 2 – Should have all My Catholic Faith Delivered Lessons completed by April 15th. Progress Reports have been sent out to those who are not keeping up with the Lessons. Check your email. Those that do not complete their My Catholic Faith Delivered Course satisfactorily by April 15th, 2021 will not receive Confirmation this year, and are invited to return next year to finish. The slides for the Sponsor's Meeting have been emailed to all Candidates. Please forward it to your Sponsor.  Anyone who did not pick up their gowns will have to wait until the school reopens on April 12th.


HOLY WEEK: All those 14 and older are required to abstain from eating meat on Good FRIDAY. Those between 18 & 59 are required to FAST on Good Friday limiting yourself to one full meal and eating nothing in between meals. Light sustenance is allowed two other times those days. CLICK ON THE Parish Website at the bottom of this homepage to get full HOLY WEEK INFO. Once there, click on the latest Bulletin for complete Holy Week schedule.

HAPPY EASTER and MANY BLESSINGS TO THE FAMILIES OF SACRED HEART from FAITH FORMATION!

EMAIL BLASTS – STAY IN THE LOOP and ALWAYS KNOW WHAT IS GOING ON: TO MAKE SURE YOU RECEIVE OUR DETAILED EMAILS ABOUT ALL things FAITH FORMATION AND SACRAMENTS SIGN UP ON OUR HOMPAGE BELOW. (It will tell you if you are already signed up.)

YOUR PRAYERS ARE NEEDED MORE THAN EVER. MAKE A TIME TO PRAY FOR YOUR FAMILIES, OUR COMMUNITIES, OUR COUNTRY AND OUR WORLD EVERYDAY WITH YOUR CHILDREN. PRAYER LOWERS STRESS. PRAYER IS POWERFUL! YOU ALL ARE IN OUR DAILY PRAYERS!

STAY CONNECTED BY WATCHING THE MASS ONLINE. THERE ARE LINKS BELOW, BUT FROM THE VATICAN ON DOWN, MASSES WILL STREAM LIVE EVERYDAY.

PRAY TOGETHER OVER THE PHONE or INTERNET WITH GRANDPARENTS, AUNTS AND UNCLES and FRIENDS AS A WAY OF SUPPORT AND CARE.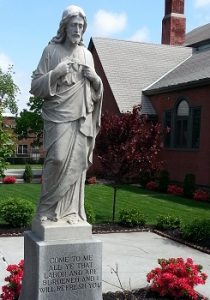 "Let the children come to me"
Sacred Heart Faith Formation
serves the faith formation needs of the children of Sacred Heart Parish. Our children come from NYC Public Schools and Sacred Heart School to receive their sacraments. Our public school children come to classes on Tuesdays and Wednesdays to learn about their Catholic Faith.
PROGRAMS
OFFICE HOURS
MONDAY through THURSDAY, 9 AM to 4 PM
Also Tuesday evenings from 7-8:30 PM when classes are in session.
Call / E-Mail us with any questions about Faith Formation at Sacred Heart Parish.