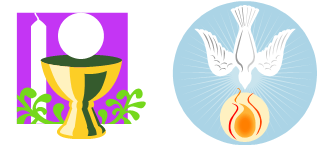 RCIA is a process by which adults 18 years or older can question, search, and inquire into the Catholic Faith.  It is a journey which leads many to seek full membership in our Faith. While there is no set timetable, on average the journey usually takes one liturgical cycle (12 to 18 months) of preparation which leads to becoming fully initiated into the Catholic Church receiving Baptism, Eucharist and Confirmation as needed.  Individuals who have completed the journey will be received into the Church at the Easter Vigil Mass.
This program is for:
Adults who are inquiring about becoming Catholic.    This is an opportunity to explore and look deeper into the Catholic Church.   There is no obligation to continue if you feel that this is not the time.
Adults who have never received Baptism and wish to become Catholic.
Adults who have received a recognized Baptism and want to become fully initiated in the Catholic Church receiving the Eucharist and Confirmation.
Adults who are Catholic having received Baptism, Penance and Eucharist and now desire to receive Confirmation.  (This is a special 10 week Adult Confirmation program that leads to Confirmation on Pentecost Sunday).
Classes are small groups with flexible days and times depending on the group's schedules.  Classes meet weekly.  During the summer, in preparation for fall classes, some readings will be distributed.
The program provides all materials, and there is no fee.
Those having regularly participated in the class will receive the Sacraments at the Easter Vigil Mass. For Adult Confirmation, those who have completed the 10 sessions before Pentecost will receive Confirmation on Pentecost Sunday.
Each person entering the program will meet individually with the Coordinator to complete the necessary paperwork, answer any questions, and discuss any concerns.   Once in the program there is no obligation to continue if you are not ready to proceed.  All distributed materials are yours to keep.
In preparation for the Easter Vigil, individuals will need to attend some preparatory rites on special Sunday's.   Attending Sunday Mass each week is part of the requirements of preparation.  Each class will begin with a brief discussion of Sunday's Mass Scripture readings.   There will be a detailed discussion on the Mass, which will include a tour of the Church   Both Theological and Pastoral concerns will be discussed.   We will also explore the Scriptures/Bible.
Please contact the FAITH FORMATIION OFFICE for more information, or if you want to sign up for RCIA.