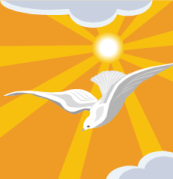 Sealed with the Spirit
Confirmation is the beginning of a person's life as a fully initiated Catholic.
Confirmation is the third Sacrament of Initiation, completing what was begun at Baptism, and continued with the reception of First Eucharist.
In order to be a Godparent or a Sponsor in the Catholic Church, a person must be a fully initiated & practicing Catholic and have received the Sacraments of Baptism, Eucharist, and Confirmation
Those children enrolled in Sacred Heart's Religious Education Program and following the standard sequence of religion classes, will receive Confirmation at the end of the 8th Year of religious instruction.
Children also come into our program as catechumens (not baptized) and candidates (baptism only). We deal with the sacramental needs of these children who are out of the standard sequence on a case-by-case basis.
For children in the 7th Grade or older: Go to our OCIA for Teens page.
We also work with children with Special Needs to receive Confirmation.
There are important meetings for the parents/guardians of those students receiving Confirmation. Check the calendar you receive at registration for exact dates and times. Special meetings will be announced.
All Confirmation candidates are required to complete all lessons in My Catholic Faith Delivered, complete all assignments, attend Mass every Sunday and Holy Day of Obligation, submit a Saint Report, submit a Letter to the Pastor, and complete 20 hours of community service. At the completion of the requirements, they will have a confirmation interview. Those who cannot fulfill all the program requirements are welcome to repeat their Confirmation instruction until they are able to do so.
Confirmation Candidates in their 8th year of religious instruction must attend four proximate preparation meetings accompanied by a parent or sponsor. These meetings will be virtual during the 2023-2024 school year.  Only ONE ABSENCE is allowed.  More than one missed meeting will require the candidate to continue his/her preparation into the next year to attend missed proximate preparation meetings before receiving the sacrament of Confirmation.  8th Year Candidates must also complete their lessons in My Catholic Faith Delivered.