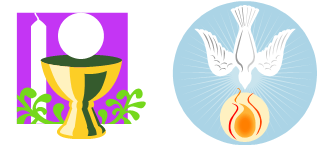 OCITeens is a 3-year program that aims at helping teens become fully initiated Catholics.
This program is for:
Children in 7th Grade or older who have not been in or have not attended the standard sequence of religion classes and are in need of Sacraments.
Teens who have never been baptized or are from another religious faith and are interested in exploring the possibility of becoming a Catholic.
Year 1 is an introductory year, exploring the Roman Catholic Faith, its traditions, practices, and beliefs.
Year 2 focuses on Morality, the Bible, and the Sacraments and their reception.
Year 3 focuses on the Sacraments and their reception.
Catechumens (those not yet baptized) in the 2nd Year usually attend a special meeting with the Bishop (Rite of Election) and must attend 3 Sunday Scrutinies with their sponsors and families and then receive all their sacraments at the Easter Vigil.
Candidates (those needing Communion & Confirmation) and Confirmandi (those needing Confirmation only) at the end of the 2nd Year will receive Confirmation (and Communion) with our 8th Year students when the Bishop comes to confer the sacrament.
All OCITeens in the year of the reception of their sacraments will be asked to attend the Confirmation Retreat.
All OCITeens are required to complete and pass with a 65% or better all online coursework (lessons and unit tests), attend Mass every Sunday and Holy Day of Obligation, write a Saint Report and a Letter to the Pastor, and complete 20 hours of community service over the 2 years. At the completion of the requirements, they will have a Confirmation Interview.
2nd & 3rd Year OCITeens are required to attend the 7th/8th Grade/Level 9:30 Masses and attend Proximate Preparation Meetings along with a parent or sponsor. Only ONE absence is allowed. More than one absence from proximate preparation meetings will require the candidate to continue into the next year to attend missed meetings to complete their requirements for the reception of the sacrament of Confirmation.