Sacred Heart Faith Formation 
Our Faith Formation program will once again be using the online Faith and Life program delivered through My Catholic Faith Delivered (MCFD).  Instruction will primarily take place at home, encouraging parents to journey with their children as they grow in faith through the online learning platform.
MCFD login information for each student  has been released and classes assigned for the 2022-2023 school year.
The self-paced online learning program will be supplemented by class masses and meetings and Zoom sessions (accompanied by a parent/guardian) covering the Rosary, the Saints, and Advent/Christmas. Our sacrament years include proximate prep meetings and activities, as well as retreat opportunities.
Just a reminder that a copy of your child's baptismal certificate is required for all new registrations.  A copy must be on file for all students enrolled in our program.
Looking ahead…
A Zoom meeting is scheduled for Thursday, September 29th at 7 PM for the PARENTS ONLY of children in Grades 5, 6, 7, and 8 to discuss the Diocese offering – Family Life.  This is a separate offering by the Diocese and is NOT part of the My Catholic Faith Delivered online course.
---
Please always visit us at www.sacredheartreligion.org for updated information.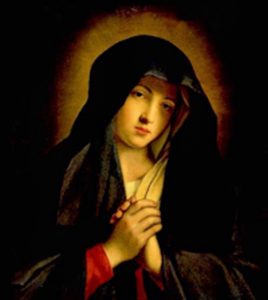 Our Lady Of Sorrows
Blessed are you, O Blessed Virgin Mary; without dying you won
the martyr's crown beside the cross of the Lord.
---
Note: A 65% or better is required on Post-Assessment and Unit Tests in My Catholic Faith Delivered (MCFD) to get credit for the year's work.  You may find more information on MCFD on our homepage under the MCFD dropdown.
Our office is VIRTUALLY open.
TO CONTACT US – email us at [email protected], and if you want to speak to us, give us a number where you can best be reached.
EMAIL BLASTS – STAY IN THE LOOP and ALWAYS KNOW WHAT IS GOING ON: TO MAKE SURE YOU RECEIVE OUR DETAILED EMAILS ABOUT ALL things FAITH FORMATION AND SACRAMENTS SIGN UP ON OUR HOMEPAGE BELOW. (It will tell you if you are already signed up.)
PRAYER LOWERS STRESS. PRAYER IS POWERFUL! YOU ALL ARE IN OUR DAILY PRAYERS!
STAY CONNECTED BY WATCHING THE MASS ONLINE. THERE ARE LINKS BELOW.